Coach Raheem Shabazz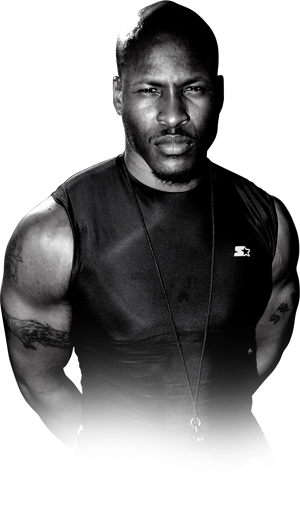 Ever since Raheem Shabazz was seven years old, he has been surrounded by sports and great athletes. From his youth, he played just about every sport there was at the Carver Recreation Center in Chattanooga,Tn. The youngest of nine children, Raheem grew up in what was primarily a basketball family. His idol growing up was his big brother Bay Harper, a two-time all american point guard in junior college. His biggest influences were his brother Idris Harper and his cousin Larry Harper, both great basketball players, so obviously Raheem would grow up to follow in their footsteps. It wasn't until his junior year of high school that this plan took a different turn when his best friend Stevland Sills, told him that he should give football a try. Little did he know what was to come next.
Raheem found a new niche on the football field, earning All- city and all-state honors as a junior. Raheem also was the Regional Champion in the 200 meters in track. He placed eighth overall in the state in that event that year, but his heart was with basketball. All the way up to the end of his senior year of high school, where he had another great year in both sports, Raheem was determined to played college basketball just like his brothers did. One phone call changed all that.
Raheem's dad Jim Shabazz gave him a call and informed him that a recruiter from his favorite college team, Ohio State, had inquired about him. Later, he was invited to walk on to the football team. He did so and earned the respect of the Ohio State community and alumni from his hard work and determination. Raheem was a part of the Ohio State football team from 1999-2002, but personal reasons led him to transfer home to UT Chattanooga for his final year of college football. Raheem stood out at both schools because of his speed and explosiveness, something that most players his size (6'1″ 210 running a 4.4 forty) lacked. He came up with his own speed and agility workouts, some of which were derived from workouts under his Ohio State strength coaches, and some he developed on his own. This training made his speed stand out and gain the attention of some pro scouts.
Raheem went on to play professional arena football for several years, but found a love and passion for training athletes. He decided to use the invaluable experience from Ohio State to train those who had aspirations to play at the next level, whether that was middle school, high school, college or pro. Today, the athlete Raheem Shabazz is now Coach Shabazz, training athletes of all ages. From seven year olds to professionals. Coach Shabazz also trains children with special needs, one of which is his own son Steve (autism), whose struggles with coordination and balance are a distant memory due to the nature and expertise of Coach Shabazz's training. His passion for creating hard working, driven, humble young men, and his positive attitude eminates from the athletes that he trains, who proudly call themselves TEAM SHABAZZ!